LUMBERJACK LODGE
Mailing address:
86085 Lumberjack Road
P.O. Box 777
Ignace, Ontario
P0T 1T0
*Our physical location is 45 minutes north of Ignace on Sturgeon Lake.*
Our always active phone line is: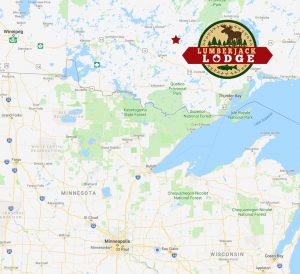 Lumberjack Lodge: 1-715-681-0158
This number is now our primary contact during all seasons.
Email: markwchilders@gmail.com
DIRECTIONS
We are easy to find. Follow Hwy. 17 to Ignace, Ontario. Turn north on Highway 599 and drive for about 41 minutes before reaching Silver Dollar. Continue driving straight for a few minutes past Silver Dollar and you will see signs for Lumberjack Lodge on the right.